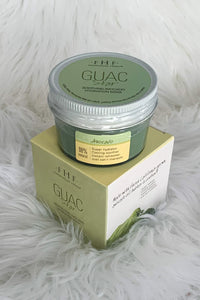 Guac Star Avocado Mask by Farmhouse Fresh
Get quenched and chill out with this deep dip of cool hydration! This revitalizing mask is packed with fresh avocado butter, extract and oil from California-grown non-GMO creamy avocados to deliver key fatty acids to support the outermost layer of skin that helps protect us from environmental stresses. It's loved by SO many – featured in Teen Vogue for 
"helping calm and reduce redness" and in Essence magazine "to combat dryness and inflammation".
Put Guac Star® in the fridge and try it chilled! Wow! It's better than a cucumber compress! Avocado's smorgasbord of vitamins B5, B6, K, E, and C, copper, folate & potassium and its naturally high moisturization factor completely comfort and nurture skin.
Refresh after a long day! Your parched skin is instantly soothed with an additional host of powerful antioxidants (Goji Berry, Pomegranate and Coffee Seed). It also includes anti-irritants like Allantoin and Green Tea, and skin-loving Sodium PCA, which helps keep hydration locked in. This mask is gentle enough to use daily, so go for the green!
---
We Also Recommend