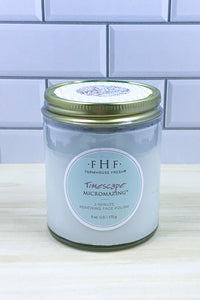 Timescape Micromazing Renewing Facial Polish by Farmhouse Fresh
Timescape™ into a smooth, new look! This is not a lotion. It's thousands of tiny micromazing™ natural plant-based fiber particles that wipe away the years with micro-fine wonder in just 2 minutes.
Exfoliate with Timescape™ before you cleanse! It feels creamy, so you can apply directly on dry skin. Just use a small dollop, and apply in fast circular motions to give you a baby-soft feel.
Clinical tests revealed in just 12 days of daily use, these exfoliating mega-wonders led to a 46% visual improvement in skin renewal – wiping away the look of imperfections and bringing a healthy, young glow.
Caffeic acid from organic cucumber extract grown on our farm delivers antioxidants, while U.S. grown, non-GMO sunflower oil nourishes your skin with vitamins and essential fatty acids.
---
We Also Recommend