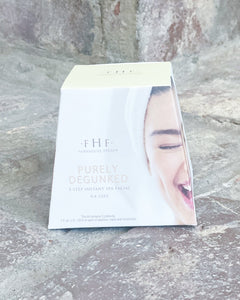 Purely Degunked 3-Step Instant Spa Facial Kit
What it is: Say goodbye to combination skin frustrations & too apparent pores and hello to the deep clean of your dreams! This 3-step facial is designed to degunk and banish bacteria & oils that overstay their welcome, so you get a balanced complexion.
All products in this set were plucked straight from our most popular FHF Farm-to-Table facials offered at luxury spas across the country!
CLEANSE: Green Tea Milk Wash is a gentle PH-balanced cleanser that is chock-full of potent antioxidants – wiping the slate clean with soothing ingredients like green tea extract and coconut milk.
MASK: Splendid Dirt® Nutrient Mud Mask is a thick, delicious blend of organic pumpkin puree from Oregon with U.S.-harvested Bentonite and Illite clays targeted to pull bacteria, excess sebum & oils from pores. It tingles and leaves you radiant! Apply and leave on for 10 to 15 minutes, then rinse.
MOISTURIZE: Oily complexions have met their match with our Kale Water Weightless Moisturizer. This ultra-lightweight, fast matte moisturizer includes FHF-grown micro kale and cucumber extracts, advanced firming peptides and squalane to firm, hydrate and balance the look of skin with a demi-matte finish.
What fans say: "Great For Teen Boy with Bad Acne. I purchased this for my 17 year old son. I wasn't sure if he would actually use the product so didn't want to buy full size and then have him not use them. My son LOVES the smell of all the products and has been using them for about two weeks. We've seen a dramatic change in his skin and he asked for more. I just purchased full size of all three products."